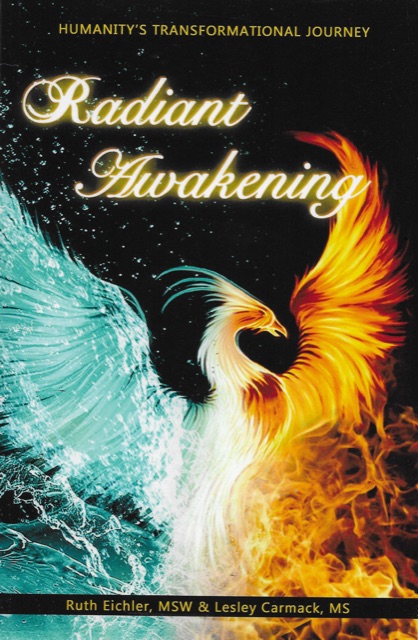 Radiant Awakening: Humanity's Transformational Journey
by Ruth Eichler and Lesley Carmack
This luminous work is a journey into the frontiers of spiritual, scientific and personal quest. To read it is to awaken into the mystery of our origin, the revelation of soul-crafted living and the potential future of those who take seriously the rise of the Sacred Feminine. The book itself is a Mystery School offering training and inspiration for seekers who would prepare themselves to be making a difference in both inner and out worlds.
– Jean Houston, PhD, a widely recognized leader of the Human Potential movement and author of many books, including The Possible Human and The Wizard of Us.
This is a beautiful, heart-centered exploration of worlds seen and unseen – through the authors' personal journeys and their scholarship, they walk the reader into worlds of vibration and aliveness just beyond the realm of our usual daily life. Reading it feels like good friends are gently pulling aside a veil, and there it is – something you have always known was there but didn't have easy words for. They pull from scores of different traditions all trying to describe the same thing – how spirit and soul speak in their own languages – and clues about how to not just understand the unseen worlds, but inhabit them. What I love about this book is how it is both personal and rooted in scholarship – accessible even to the parts of me that tend to push away anything esoteric that feels ungrounded. A wonderful, alive book.
– Deborah Allen, M.A., CMT, Healer, Training Facilitator, Writer and Theater Director
| | |
| --- | --- |
| Pages | 368 |
| ISBN-13 | 978-1939625533 |